Jedna z pro-słowiańskich redakcji poprosiła mnie o napisanie "krótkiego artykułu o polsko-rosyjskich wzajemnych pretensjach, o przyczynach polskich wystąpień przeciw Rosji, o tym jak w Polsce wygląda sprawa słowiańskiej współpracy i dlaczego Polska tak silnie się orientuje na współpracę z USA". Starałem się z tego zadania wywiązać. I chyba warto rozpowszechniać poniższą opinię także w Polsce, w której nawet tygodnik "Przegląd" lęka się publikować me teksty.
Marek Głogoczowski – doktor filozofii politycznej Uniwersytetu Śląskiego.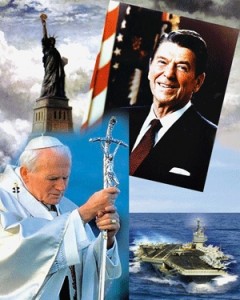 Powyżej: Ilustracja do artykułu "Nowi krzyżowcy" ("Novyje krestonoscy") jaki ukazał się w białoruskim tygodniku Respublika, nr. 109 (4288), Mińsk, 15.06.2007.
Z mej młodości pamiętam, że Rosjanie zarzucają Polakom, że "Wasz polskij orieł vsiegda na zapad smotrit". To psychologiczne uwarunkowanie "na zachód" szerokich rzesz polskiego społeczeństwa ma swe religijne uwarunkowanie. Już ponad tysiąc lat temu zachodni Słowianie znaleźli się w obrębie wpływów Watykanu, a wschodni przejęli prawosławie, związane z Bizancjum. W wygłoszonym w moskiewskim "Centrum Sacharowa" w 2016 roku wykładzie "Dlaczego Polacy nie lubią Rosjan", mój dobry – aż do momentu "szokowej" zmiany ustroju w Polsce w 1990 roku – kolega, profesor historii Andrzej Paczkowskii przypomniał, iż w przeszłości nie zawsze panowała wrogość między katolicką szlachtą, a prawosławnymi bojarami. Mianowicie, po śmierci Iwana Groźnego (w roku 1600) "Polacy próbowali wykorzystać okres destabilizacji państwa rosyjskiego. Zaproponowali Moskwie unię personalną: była by to Konfederacja złożona z Wielkiego Księstwa Litewskiego, Królestwa Polskim oraz Państwa Rosyjskiego. Do Moskwy przyjechała delegacja, na czele której był prawosławny Polak – książę Sapieha. Część rosyjskiej elity wyrażała zgodę na taką Unię, jednak się domagała, by polski król przyjął prawosławie. To okazało się być niemożliwym."
(P.S. Od kompetentnej osoby z UW już się dowiedziałem, że Paczkowski trochę zmyślał: Sapieha nie był księciem,  czul sie nie Polakiem lecz Litwinem (w znaczeniu politycznym), a z prawosławiem pozegnał sie w wieku ok. 20 lat – został kalwinistą, a koło 30 – katolikiem. Co do reszty – zgoda)
Ta historia wskazuje, że to Watykan sprawujący "kontrolę dusz" w Rzeczpospolitej, stał za niemożnością połączenia się dwóch wielkich słowiańskich narodów. I do dzisiaj ten problem pozostaje nie rozwiązany. W książkowym opracowaniu na ten temat ,Andrzej de Lazariii pisze: "Polaków i Rosjan (w swej masie oczywiście) w pierwszym rzędzie odróżnia podejście do indywidualizmu oraz do kolektywizmu (jak by tego nie nazwać wspólnotą, narodem, klasą czy gromadnością, sobornością). To już dawno zaważyli Rosjanie: Puszkin w "kiczowatym Lachu", Dostojewski w "honorowym panie" i w innych obrazach "honornych Polaczków".
Fiodor Dostojewski (który był ponoć polskiego pochodzenia) postrzegał Polaków jako zaciekłych wrogów Rosji, heroldów jej okcydentalizacji w duchu liberalnym. Pisał: "Wojna polska to wojna dwóch światów chrześcijańskich – to początek przyszłej wojny prawosławia z katolicyzmem, innymi słowy – wojny geniuszu rosyjskiego z cywilizacją europejską"; "Poczuję się szczęśliwym, kiedy wszystkie ludy przejdą pod panowanie Rosji". Dostojewski reprezentował zatem myślenie stricte chrześcijańskie, powielające uduchowiony schemat postępowania wskazany przez św. Pawła w jego "Listach": " Jeden jest Pan, jedna wiara, jeden chrzest." (Ef. 4: 1-6)… "Trzeba bowiem, ażeby Chrystus królował, aż położy wszystkich nieprzyjaciół pod swoje stopy." (1 Kor. 15:25)
Nie tylko prawosławni wielbią Chrystusa, Umęczonego Zbawcę oraz Zjednoczyciela Narodów. Po klęsce antyrosyjskiego Powstania Listopadowego w roku 1830 (powstania wspartego z ukrycia przez europejską masonerię, obawiającą się interwencji wojsk rosyjskich we Francji ogarniętej Rewolucją Lipcową), romantyczny poeta Adam Mickiewicz ogłosił, że to przegrana POLSKA JEST CHRYSTUSEM NARODÓWiii. Ten popularny przez ponad stulecie wśród Polaków pogląd, popierał współczesny Dostojewskiemu filozof i mesjanista Bronisław Trentowski, który "Głosił koncepcję filozofii narodowej, filozofii wyrosłej na gruncie swoistych cech narodu polskiego i służącej narodowi w realizacji jego misji dziejowej …Według Trentowskiego "Ten kto zamierza żyć w Rosji niech wierzy w moskiewski rozum, niech nabiera azjatyckich pojęć (…) Lub gorzej, gorzej temu, kto nie przejmie duszy moskiewskiej i po polsku głupi! Zostanie taki sukinsyn, buntownik i powstaniec, wzięty w sołdaty albo zesłany na Sybir."iv.
Tak więc w okresie, kiedy to zaczęły powstawać w Europie państwa o charakterze narodowym, pojawiły się dwie bardzo rozbieżne koncepcje słowiaństwa, odpowiadające podziałowi na zachodnie i wschodnie chrześcijaństwo. I nie trudno zauważyć, że gdy po Pierwszej Wojnie Światowej upadły wielonarodowe monarchie, to kraje prawosławne zaczęły optować za z definicji "gromadnym" komunizmem, a katolickie za wychwalającym "indywidualistyczny" heroizm faszyzmem – by wskazać na Włochy, po części Polskę (przewrót majowy 1926), Hiszpanię, Chorwację i tak dalej. Przy czym, jak to na spotkaniach publicznych od 20 lat podkreślam, obie te formy ustrojowe, obecnie oficjalnie traktowane jako wstrętne i totalitarne, były społeczną reakcją na agresję przeżartego korupcją liberalnego ultrakapitalizmu, promieniującego na Kontynentalną Europę z imperiów anglosaskich, w szczególności ze Stanów Zjednoczonych.
Odnośnie postępowania tego ostatniego "pod Bogiem" Imperium, wielki portal globalresearch.ca kilka dni temu opublikował tekst "Dlaczego Zachód nie może strawić Rosji", młodszego ode mnie o 20 lat Andre Vltchkav, czeskiego (ale naturalizowanego w USA), podróżnika oraz publicysty, który w bojowy, bardzo podobny do mojego sposób, opisał "mesjanistyczne ambicje" Zachodu pod przywództwem USA:
"Jest coś głęboko patologicznego w psychice Zachodu. Nie potrafi on zaakceptować nic innego jak pełne i bezwarunkowe poddaństwo. Musi kontrolować, być odpowiedzialnym za wszystko to co się dzieje na szczycie; potrzebuje się czuć wyjątkowym. Nawet gdy morduje i rujnuje całą Planetę, to podkreśla swoje poczucie wyższości w stosunku do reszty świata. Ta wiara w wyjątkowość jest prawdziwą religią Zachodu, o wiele bardziej niż chrześcijaństwo które już od dekad nie odgrywało żadnej ważnej tutaj roli. (Amerykańska) wyjątkowość jest fanatyczna, fundamentalistyczna i nie do zakwestionowania, jej narracja jest jedyną dopuszczalną na świecie. … Jak we wszystkich religiach im bardziej absurdalna jest pseudo-rzeczywistość, tym bardziej brutalne i ekstremalne są metody używane do jej podtrzymywania. Dzisiaj setki tysięcy 'akademików', nauczycieli, dziennikarzy, psychologów i innych wysokopłatnych profesjonalistów, we wszystkich zakątkach świata, są zatrudnione przez Imperium dla tylko dwóch celów – gloryfikacji Imperium oraz dyskredytacji wszystkiego stojącego mu na drodze, odważającego się rzucić mu wyzwanie. Rosja jest najbardziej znienawidzonym adwersarzem Zachodu, podczas gdy Chiny bliski sojusznik Rosji, jest drugim takim."
I w tym, promieniującym z "miasta na wzgórzu"vi nad rzeką Potomac, mesjanistycznym świetle należy patrzeć na obecną rzeczywistość Wolnej Polski, szczególnie pod przywództwem partii o biblijnej nazwie "Prawo i Sprawiedliwość". Otóż w imię tego "prawa i sprawiedliwości" mój młodszy kolega, były poseł z ramienia Samobrony, dr politologii Mateusz Piskorski już od 2 lat siedzi, na zlecenie CIA jak twierdzi rosyjski Sputniknews, bez sądu w warszawskim więzieniu – a to za zorganizowanie wyraźnie pro-socjalistycznej i pro-rosyjskiej, mini-partii "Zmiana". Co więcej, jak gdyby w formie ironicznej kontynuacji głoszonej 170 lat temu przez Trentowskiego "filozofii narodowej, filozofii wyrosłej na gruncie swoistych cech narodu polskiego i służącej narodowi w realizacji jego misji dziejowej", jesteśmy w trakcie tworzenia, przez rządzącą partię PIS (i jej "nadrząd" w USA) NOWEJ POLSKIEJ TOŻSAMOŚCI NARODOWEJ, którą starszy ode mnie o pięć lat krakowski filozof i historyk, Bronisław Łagowski opisał niedawno w następujący sposób ("Przegląd" nr 11/2018, s. 13-14):
"Jej celem jest nadanie Polsce "tożsamości antykomunistycznej". Jak to się robi? Zacznijmy od końca: degraduje się nie żyjących generałów, a następnie plan przewiduje degradacje wszystkich oficerów wojska polskiego z czasów PRL … zmienia się nazwy ulic, które mogły by się kojarzyć z poprzednią "tożsamością", niszczy pomniki przypominające wielką wojnę, zawiera sojusze z siłami, które były nam wrogie w czasie wojny, a dziś są dumne ze zbrodni jakie popełniły (chodzi o Ukraińską Powstańczą Armię – UPA) … Strach budzi nadrzeczywisty wymiar tych dążeń, gdzie prawda i fałsz, dobro i zło, szlachetność i podłość, symbole i rzeczy zostały ze sobą zmieszane rzekomo w w celu osiągnięcia nadzwyczajnego, wprost niebiańskiego dobra, jakim jest "zdobycie władzy nad polską duszą", aby uczynić z niej duszę antykomunistyczną. O ten cel warto się bić … także krzywdzić ryczałtem i w nastroju amoku Polaków, którzy odtworzyli to państwo i odbudowali miasta po największej wojnie, jaka się przez Polskę przetoczyła. Przyjść w 1989 na gotowe i ogłosić, że zastało się zgliszcza – oto bezczelność PO-PIS jakiej staliniści mogliby pozazdrościć."
Oczywiście jest to posłusznie wykonywana, także przez powołany do pielęgnacji "narodowego ducha" watykański kler, "ideologiczeska podgotowka" do starcia z ziemi (a przynajmniej do wypchnięcia go z Europy), bratniego słowiańskiego narodu, który miał to nieszczęście, że jako pierwszy na świecie, w sposób bardzo skuteczny, aż prawie przez wiek cały kultywował i wspierał na świecie idee socjalistyczne, z definicji antyamerykańskie i antysyjonistyczne. Przy niemałym w tym udziale potomków polskiej szlachty czy nawet arystokracji, by wymienić tylko Feliksa Dzierżyńskiego czy Marszałka Obu Narodów, Konstantego Rokossowskiego. A jak zostanie przegrana, zaplanowana przez "Zachód" (by użyć eufemizmu Andre Vltchka) słowiańsko-słowiańska wojna, to mamy już przygotowany 170 lat temu filozoficzno-religijny plan "ratunkowy" pod nazwą POLSKA ZNOWU CHRYSTUSEM NARODÓW. I tak dalej, aż do Końca Świata, w chrześcijańskiej Biblii przecież zaplanowanego.
—————
i    https://lenta.ru/articles/2016/06/18/poland_memory/ . Członek Polskiej Akademii Nauk Andrzej Paczkowski był mym dobrym kolegą z polskiego Klubu Wysokogórskiego, z którym często się spotykałem, początkowo w latach 1960 w Tatrach i Warszawie, a następnie czy to w Paryżu czy w Genewie czy w Trento, w okresie mej emigracji z PRL-u w latach 1968-1982. Nasza bliska znajomość nagle się urwała w 1990 roku gdy Paczkowski poparł "szokowe reformy ekonomiczne" w Polsce, a następnie ujawnił się jako – skądinąd dobrze prosperujący w okresie PRL-u – współautor "Czarnej Księgi Komunizmu", wyraźnie rozpowszechnianej w Europie w ramach "Kulturkampf CIA".
ii   http://src-h.slav.hokudai.ac.jp/coe21/publish/no17_ses/06lazari.pdf
iv  Трентовский Б. Изображения национальной души, написанные Соотечествен- ником. (Париж, 1847) // Польская и русская душа от А. Мицкевича и А. Пушкина… С. 71.